Our History and Evolution
Our company is committed to offering access to Real People, Great Products, and Amazing Service. The ShoppersChoice.com family of brands are all designed to help customers discover products that will not only enhance their homes and lifestyles, but will also allow them to spend more time enjoying what they love to do most with the people they love the most.
Our History
ShoppersChoice.com originally opened in 1998 as an actual brick and mortar store called The Grill Store & More, located in Baton Rouge, Louisiana. Owners Michael and Ladina Hackley started the business from the ground up, working seven days a week for the first year of its existence. Within 2 years, the business expanded to 2 Baton Rouge stores and a franchise location in New Orleans. In 2000, www.BBQGuys.com was launched as the first website in the ShoppersChoice.com family of brands, quickly becoming one of the world's leading websites for outdoor cooking products.
As the product offerings expanded far beyond grills, our focus turned to becoming a true online superstore. This led to the 2004 launch of our parent website, ShoppersChoice.com, along with several niche online stores that cater to buyers with a passion for everything related to indoor and outdoor cooking, quality patio furniture, fireplaces, cookware, and cutlery.
Today, the ShoppersChoice.com community is all about inspiring customers to discover products that will enhance their lifestyle, freeing up time to enjoy the people and activities that matter most.
Our Promise
We've summed up our fundamental approach to business with Our Promise: Real People, Great Products, and Amazing Service. More than just a slogan, this is the foundation for how business is conducted at ShoppersChoice.com, LLC. It is a formula that influences the products we offer, drives us to provide an exceptional shopping experience, and guides how we deliver the amazing service you deserve. To us, this is how the world of business should work. Learn more about Our Promise.
Our goal has always been to provide great products backed by world-class customer service from real people with a high level of product knowledge. We strongly believe that the ability to provide exceptional customer service relies on every employee in every position to truly be involved in the process. Not only have our owners and managers worked in every facet of the company, but each employee regularly attends rigorous training seminars to help further their product knowledge. Our well-trained staff can then pass on knowledge and experience to the customer through an incredibly competent and professional customer service experience.
In fact, a major reason for opening our showroom is an excellent training ground for our team. Each and every team member has the opportunity to work in our store, gaining experience with both our products and our customers - an advantage that other online retailers are rarely able to match.
Come Visit Us!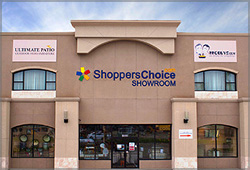 The ShoppersChoice.com Kitchen & Patio Showroom is much more than just a store. We invite you to experience kitchen entertaining & outdoor living at its finest. With over 100 live grills, more than 20 outdoor kitchens, and several indoor kitchen and appliance displays, it's no wonder we are Louisiana's Premier Kitchen & Patio Showroom. Come find everything you need to transform your backyard and kitchen into your favorite gathering place.